About Peter
PETER DOMBROVSKIS 1945 - 1996
Peter Dombrovskis was born in Wiesbaden, Germany in 1945 of Latvian parents. He emigrated to Australia in 1950 with his mother Adele and started taking photographs in the 1960's. He was strongly influenced by Lithuanian-Australian pioneer, conservationist and photographer Olegas Truchanas, who became a father figure to him. He was equally influenced by landscape photographers of mid-century America such as Ansel Adams, Edward and Brett Weston and Eliot Porter.
In February 2003, Peter Dombrovskis was inducted into the International Photography Hall of Fame in Oklahoma City, now in St Lious Murori, United States of America. Peter is the first Australian to be accorded this honour, and one of only 58 people to be inducted over the 200 or so years of the history of photography. Peter's work is also represented in the collections of the National Library, National Gallery of Australia, Australian Heritage Commission, National Gallery of Victoria, Queen Victoria Museum and Art Gallery, Tasmanian Museum and Art Gallery, the Royal Tasmanian Botanical Gardens, the Wilderness Gallery and many private collections.
Some of Peter's photographs have been instrumental in the conservation of various Tasmanian wild places including the prevention of the damming of the Franklin River. Peter's works have been published over 35 years in the form of books, calendars. cards and posters, and his wife Liz continued publishing until July 2009.
Peter's photography has now moved to a new phase of public access. The National Library of Australia has acquired the archive of Peter's transparencies so that future generations may view and enjoy his photography.
On 28th March 1996, Peter died while photographing in the Western Arthur Range in southwest Tasmania. He is survived by his second wife, five children and two step-children.
All Peter's photographs were taken with a large format Linhof Master Technika 5 x 4 inch flatbed field camera. He used three lenses; a 90mm Nikkor F4.5, a 150mm Schneider Symar-S (standard lens), and a 300mm Nikkor MF9. He sometimes used a polarizing filter.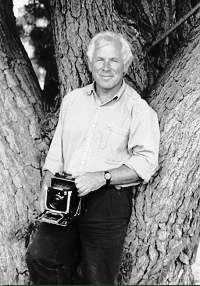 Notice About Prints
Photographic prints are available on request. Please contact us for details.